Water Damage Restoration in Long Beach
It's not easy to imagine your home or business will ever be the same after a pipe burst or flooded basement. But with the help of 911 Restoration of Mississippi Gulf Coast, it can. In fact, our water damage restoration technicians do whatever it takes to make your property feel brand new.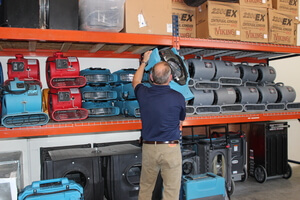 Our IICRC certified mold remediation and flood cleanup crew handles every aspect of flood damage. They take care of emergency needs such as boarding up and storm repair. They handle water extraction, sewage removal, and structural dehumidifying. They even repair all forms of flood damage, from warped floorboards to a destroyed roof. And if you need mold remediation, they conduct a mold inspection and handle mold decontamination themselves.
We believe in turning your pipe burst or flooded basement into an opportunity for a Fresh Start. We also believe it's our job to make that process as painless as possible. Our water damage restoration experts work hard to give you peace of mind. They do that by providing top-tier service, offering 24-hour emergency flood cleanup, and working with you to make water damage restoration affordable.
If you're not sure whether your insurance covers flood cleanup or mold remediation, we figure it out for you. A flood damage expert reviews your policy and sits down with you for a free insurance consultation. They help you out with inventory and loss itemization, file your claim for you, and bill your provider directly.
At 911 Restoration, we do our best to anticipate and accommodate your needs. If you're looking for reliable, caring flood cleanup in Long Beach, you found it. Call 911 Restoration of Mississippi Gulf Coast today.
Residential and Commercial Water Damage Restoration in Long Beach
Long Beach is a beautiful place to work and live. But local properties are always at the mercy of the region's wild weather patterns. Storms, snow, tornadoes, and hurricanes strike residential and commercial properties alike. And that's to say nothing of the sewage backups, pipe bursts, and washer machine floods that are common anywhere.
As a locally owned and operated company, we're proud of the properties that make our community beautiful. So we're dedicated to providing outstanding water damage restoration service to all homes and businesses in the area. No matter where you are, what type of building you own, or what disaster you've endured, you have an ally in 911 Restoration.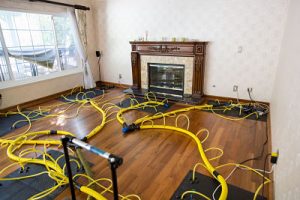 We provide emergency water damage restoration 24 hours a day, 7 days a week. We guarantee an arrival time of 45 minutes or less, and that sense of urgency remains even after our techs arrive at your property. They work quickly to pack out and store your at-risk belongings. They leap into action, providing emergency boarding up, roof repair, storm repair, leak detection, water removal, or whatever else you might need.
After the flood cleanup workers eliminate the water or sewage, they dry the space thoroughly with professional fans. They then test for flood damage. If your home or business has been destroyed in any way, our technicians can fix it. They replace, repair, or remove any compromised structure or material.
Finally, the crew conducts a thorough mold inspection. This is especially important after a flooded basement, as mold thrives in dark, damp spaces. If they discover an infestation, they take care of mold removal themselves.
Whether you're a business owner or a homeowner, you can trust 911 Restoration to make your property shine again. Call us now for emergency flood repair and a Fresh Start.
Comprehensive Mold Inspection After Flood Damage
Between the frequency of flood damage and the hot, muggy summers, we know how important it is to provide expert mold inspections in Long Beach. If you need peace of mind after a flooded basement, storm damage, or any other water incident, count on us.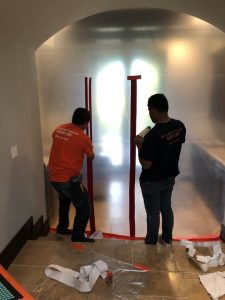 Our mold inspection crew is relentless when it comes to ensuring that every growth on your property is found. They know where to look for hidden infestations, and they have the tools to handle mold removal safely and effectively.
If you already know there is an infestation on your property, do not attempt mold remediation yourself. Do-it-yourself mold removal is ineffective and dangerous. Most varieties of mold release harmful particles when disturbed. Without professional tools and training, you are likely to breathe in these particles and potentially cause damage to your system.
Our certified mold remediation specialists not only know how to conduct mold removal safely, but they also know how to prevent a repeat infestation. After mold removal is complete, our workers dehumidify the structure where mold grew. This step makes your property inhospitable to future growth and protects you in the long term.
If you need mold remediation in Long Beach, choose the contractor who is dedicated to your wellbeing. Call 911 Restoration of Mississippi Gulf Coast.
Servicing the cities of Bay Saint Louis, Biloxi, Diamondhead, Diberville, Gautier, Gulfport, Long Beach, Moss Point, Ocean Springs, Pascagoula, Pass Christian, Pearlington, Vancleave, and surrounding areas.