Sanitization Services in Mississippi Gulf Coast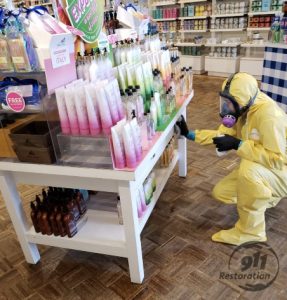 All across the U.S. and the state of Mississippi, the coronavirus crisis is spreading rapidly and taking its toll. Local businesses are shutting down, thousands of people are suffering layoffs, and numerous residents are hunkering down inside of their homes for protection.
One of the scariest parts about this pandemic is that you don't know who might be infected. People can harbor the virus for up to 14 days with no signs of symptoms. When symptoms of the coronavirus do arise, they resemble the common flu and include: 
Dry coughing

Wheezing

Fever

Aches and pains

Tiredness

Severe breathing difficulties
During this pandemic, it is critical to follow the CDC's advice and wash your hands for at least 20 seconds throughout the day, wear a face mask when you go to the grocery store or to the pharmacy, practice social distancing, and stay at home as much as possible. You do not know who could possibly be infected. As a property owner, you now have the added stress of maintaining a clean and sanitized environment so as not to infect your family members, friends, employees, customers, or tenants. Call us at (228) 300-6188 and see how we can help.

911 Restoration's Sanitization Services
911 Restoration of the Mississippi Gulf Coast understands the urgency of this situation. We are here for you during this crisis. Our licensed, insured, and bonded technicians have the tools and techniques to abide by the strict guidelines set forth by the CDC and EPA when sanitizing and deep cleaning your building.
The team at 911 Restoration can deep clean your office building, home, retail store, restaurant, or apartment complex down to a microscopic level, dramatically reducing the amount of germs and viruses that are living on your property's surfaces.
Our team is here for you and your family, employees, and customers when you need us the most. We are available 24/7/365 and have a rapid response time of just 45 minutes. Best of all, our "fresh start" approach allows us to offer you with sympathetic and kind services, elevating your customer experience with us. Allow us to thoroughly clean your property to provide a safe and sanitized place for all.  Call us today at (228) 300-6188.