Water Damage Restoration in Gautier
We know that feeling of panic. A pipe bursts in your commercial property, flooding your business and forcing you to close your doors. Or you wake at 2:00 a.m. to a nasty odor. Sure enough, you suddenly have a sewage-flooded basement and have no idea who to call. Or maybe you've discovered mold growing in your bathroom and you need fast mold remediation for the sake of your family's health.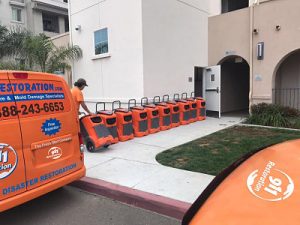 In any disaster, you have an ally in 911 Restoration of Mississippi Gulf Coast. Our flood cleanup and mold removal technicians are alway here for you. You can even reach us 24 hours a day, every single day of the year. Our water damage restoration crew guarantees an arrival time of 45 minutes or less, so you're not left worrying and wondering.
At 911 Restoration, we value our neighbors and the properties that make Gautier beautiful. We appreciate the opportunity to provide excellent water damage restoration in Gautier, and we prove it with top-tier service. Our flood damage experts are rigorously trained in all aspects of property restoration. They are IICRC certified and fully dedicated to making your property brand new again. Our flood cleanup crew does far more than water extraction and structural drying. They handle repairs, mold inspection, and mold remediation to restore your home or business to its former glory.
We are sensitive to the anxiety that comes with a pipe burst, flooded basement, or any other disaster. Our water damage restoration workers do all they can to provide constant peace of mind. This includes clear communication, transparent business practices, excellent service, and a free insurance consultation. Because the water damage restoration process can be complex, it's often unclear which services your policy covers. A flood damage expert sits down with you to clarify your coverage and help you file a claim.
Whether it's a plumbing leak or a flooded basement, water damage is a panic-inducing experience. You don't have to get through this alone. Call 911 Restoration of Mississippi Gulf Coast, and let us give you a Fresh Start.
24/7 Emergency Flood Cleanup in Gautier
Pipe bursts. Washer machine floods. Storm damage. Sewage backups. Hurricane destruction. There are countless forces that threaten to devastate local properties. Fortunately, there is always a solution to flood damage in Gautier. That solution is 911 Restoration of Mississippi Gulf Coast.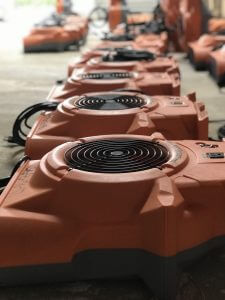 We know water damage doesn't observe regular business hours, so neither do we. You can call us 24 hours a day, 7 days a week, every single day of the year. When your call comes in, our flood cleanup crew leaps into action. You can expect them at your door in 45 minutes or less.
We move quickly because there is simply no time to waste when it comes to water damage restoration. Whether you have a sewage backup or a flooded basement, any moisture lingering on your property can lead to costly damages. The structure of your home or business soaks up water, causing rotting, warping, mold contamination, and other issues. The faster your flood cleanup contractor responds, the less likely you are to get stuck with costly damages.
When our water damage restoration experts arrive on the scene, their first order of business is to protect any items that are still unharmed. They pack out and store at-risk belongings, then move quickly to extract the water. They may also need to provide services to stop the invasion of water. This could include emergency boarding up, storm repair, roof repair, or leak detection. Once all the water is gone, they dry the area thoroughly using professional fans.
At 911 Restoration, we don't want to just put a bandaid on your flood damage. We want to fully restore your property so you can enjoy a Fresh Start. Our water damage restoration crew inspects your property for damages and takes care of all repairs themselves. They also conduct a mold inspection and handle any required mold removal.
Our flood cleanup experts are as fast as they are thorough. Call us today. We'll make sure you forget you ever even had a flooded basement. 
Make a Full Recovery from Mold
After all the work you put in to maintaining a beautiful property, mold contamination feels like the ultimate insult. Your refuge is now an infested space.
Don't worry. Our mold remediation experts know how to make your property feel clean and healthy again.
First, the mold removal crew conducts a thorough mold inspection. Even if you think you know exactly where mold is growing on your property, a mold inspection provides peace of mind. You know that when our mold remediation experts perform mold removal, they're eliminating every colony.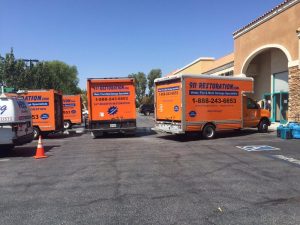 Once the mold decontamination staff discovers and identifies every growth, they use professional tools for mold removal. Their methods are effective and safe. They avoid spreading spores and mycotoxins throughout your property, ensuring the air you breathe remains healthy.
After mold removal, our experts dehumidify the site of the infestation. This means they dry the structure down to its core. In doing this, they prevent stored moisture from rising to the surface, causing a new infestation later on. Then, the mold remediation crew handles any repairs you may require due to mold damage. 
If you need mold remediation in Gautier, turn to the company that thinks of everything. Call 911 Restoration of Mississippi Gulf Coast.
Servicing the cities of Bay Saint Louis, Biloxi, Diamondhead, Diberville, Gautier, Gulfport, Long Beach, Moss Point, Ocean Springs, Pascagoula, Pass Christian, Pearlington, Vancleave, and surrounding areas.