Water Damage Restoration Bay Saint Louis
If you need water damage restoration in Bay Saint Louis or the surrounding area, look no further than 911 Restoration. Our IICRC certified flood cleanup technicians are here for you 24/7/365. They arrive in 45 minutes or less (guaranteed!) and see to your every need. At 911 Restoration of Mississippi Gulf Coast, we have one goal: to give you a Fresh Start.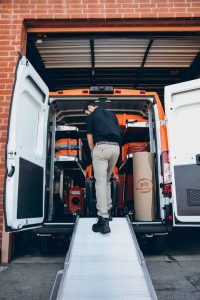 You can count on us for full service water damage restoration and mold remediation. That means when a pipe bursts or you wind up with a flooded basement, we make your property brand new. Our flood damage experts do it all, including water extraction, sewage removal, structural drying, and full property restoration. Whatever breaks, they fix it. They even handle mold inspection and mold removal personally.
Along the way, we keep an eye on your bottom line. Many property owners panic when they consider the potential cost of flood damage. Rest assured that our techs work fast to minimize your damage and your costs. We work with you to keep water damage restoration and mold removal affordable. And we provide a free insurance consultation so you know exactly what to expect. During this consultation, a flood cleanup expert reviews your policy and explains your coverage in clear terms. They even give you a hand with the complicated paperwork and bill your provider directly.
When you're dealing with a pipe burst, flooded basement, storm damage, or any other disaster, you need a water damage restoration contractor you can trust. As a locally owned and operated company, you can expect us to treat you like a valued neighbor.
For caring, expert flood cleanup and mold decontamination in Bay Saint Louis, call 911 Restoration.
Comprehensive Flood Damage Cleanup
Recovering from a pipe burst requires more than water extraction. Ensuring your family's safety after a flooded basement involves more than structural drying. And everyone knows hurricane recovery can get complicated.
That's why our IICRC certified flood cleanup crew is trained and equipped to handle it all, from water removal to structural repairs. An unexpected water disaster shouldn't mean the end of a property you've worked so hard to maintain. We want you to love your home or business as much as you ever did.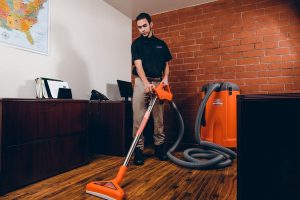 When our water damage restoration workers arrive at your property, they provide a free visual inspection. They explain exactly what needs to be done to repair your home or business. Then, they work quickly to get water off your property. We provide a wide range of emergency services, including water extraction, boarding up, storm repair, and roof repair. Once the water is gone, the flood cleanup crew brings in professional fans to dehumidify the structure.
Of course, a dry property is not the same thing as a restored property. That's why our crew goes one step further to conduct a water damage inspection and mold inspection. Depending on the extent of your pipe burst, flooded basement, or other incident, you could have any number of damages. If our workers discover any problems—rotting, warping, mold development, or anything else—they take care of it themselves.
If you need a Fresh Start after flood damage, you only need to make one call. Reach out to 911 Restoration of Mississippi Gulf Coast today.
Expert Mold Inspection and Mold Remediation in Bay Saint Louis
Between the wet weather and muggy summers of Mississippi, there is always a call for a mold inspection in Bay Saint Louis. Mold thrives in local properties, and if you need help getting the mold out of your home or business, turn to us.
Our mold remediation crew has undergone extensive training in mold decontamination. They use a multi-step process to ensure your property is completely cleared of fungus.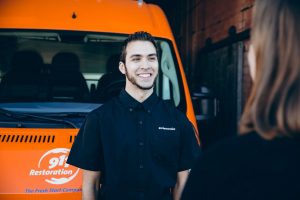 First, our workers perform a thorough mold inspection. This step is essential even if you can see mold growing in plain sight. Mold reproduces through airborne spores. That means the mold you see in front of you could have spawned an additional colony elsewhere on your property. A professional mold inspection ensures that our mold removal process eliminates every growth.
Next, the mold remediation crew uses professional tools for safe, complete mold removal. They get rid of the growth without spreading dangerous particles throughout your property. After mold removal, the team dehumidifies the structure where mold grew. This is a protective measure, strengthening your home or business against the threat of a future infestation. 
Just as we do with flood damage, we check to make sure your property has not been damaged by the infestation. If our mold remediation crew finds any destruction or staining, they repair or replace the damaged surface. They even handle carpet replacement.
No matter what you and your property have been through, you have an ally in 911 Restoration of Mississippi Gulf Coast. Call now for comprehensive care and compassionate service.
Servicing the cities of Bay Saint Louis, Biloxi, Diamondhead, Diberville, Gautier, Gulfport, Long Beach, Moss Point, Ocean Springs, Pascagoula, Pass Christian, Pearlington, Vancleave, and surrounding areas.