Smoke Damage Restoration and the Importance of Timing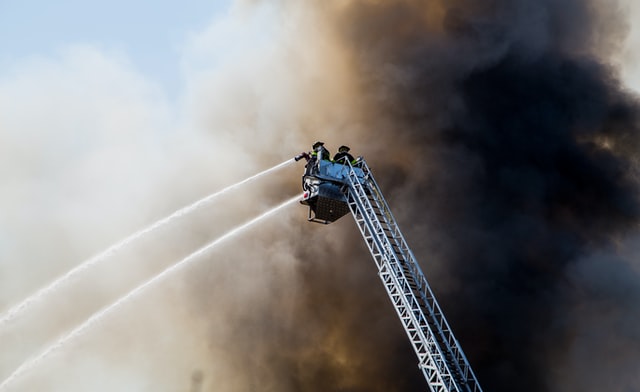 When there's a fire at your property, timing is critical to restoring your belongings. The fire causes thick smoke, a burnt smell, soot, etc. Since smoke and soot can cause much more damage than the fire itself, you must respond quickly. The key is to call a smoke damage restoration service immediately after a fire to save further damage.
Smoke spreads and is harmful to your health. Soot damages your property and valuables due to its corrosive chemical composition. Thus, the right reflexes and a timely reaction can minimize the damage.
Here's our explanation of the importance of timing in smoke damage restoration!
Why Should Smoke Damage Restoration be Quick?
The combustion of matter releases VOCs (volatile organic compounds) and air pollutants. VOCs of fire mainly comprise of benzene, toluene, ethylbenzene, and xylenes. These elements can seriously damage your health. It is essential to eliminate them as soon as possible.
For this, we strongly recommend you clean and purify your indoor air without delay. Smoke damage restoration is not something anyone can do. Certified and trained professionals have the right equipment and knowledge to sustain the repair work.
A smoke damage repair service:
Measures indoor air quality
It is essential to detect the presence of VOCs. For this, there are air sensors such as smart devices.
Ventilate
Don't forget that indoor air is up to 8 times more polluted than outdoor air. It is essential to ventilate the rooms of your home to renew the air (and not just the affected space.)
Purify
They also do sanitization of the damaged area and dehumidify the air through environmentally friendly cleaners. The purpose of these dehumidifiers is to destroy bad odors and produce active oxygen essential for the proper cleansing of indoor air. These dehumidifiers are equipped with an activated carbon filter, a HEPA filter, designed for environments. They filter heavy gases or pollutants from the air.
Sanitization
Sofas, carpets, clothes, rugs, and upholstery store VOCs and need proper cleaning. Professionals clean the damaged things or change them if they are irrecoverable. You can opt for less allergenic coverings such as parquet, linoleum or tiles to prevent the damage. Professionals often use cleaning solutions and procedures in compliance with EPA and the CDC standards.
A Thorough Inspection
Before providing immediate mitigation services, an initial assessment is necessary. It detects all traces of smoke damage. Calling in a professional saves you from further costs of hidden damages.
Particles of soot and smoke are likely to settle in the air ducts. These pollutants are likely to infiltrate the air we breathe by spreading through ventilation, air conditioning or heating systems. It is necessary to ensure their cleanliness right after a fire event.
Smoke damage restoration experts go on the site to identify all the content that needs repair. They quickly develop an action plan for dealing with the goods. After these emergency measures, the professionals carefully plan the repair work according to your requirements.
Smoke, Soot, Ash and Odor Removal
Smoke and soot can damage your property and valuables more than the fire. They leave behind an unpleasant odor and ash. The job of a professional smoke damage repair service is to clean all traces of soot, smoke, and ash. They also eliminate the unpleasant odors permanently from indoors.
Detects Additional Damages
The priority of smoke damage repair professionals is to secure the property and quickly recover and protect the valuables.
In addition to smoke, a fire can cause power cuts, wall openings, and water damage. These are common after a fire. The water firefighters use to out a fire can also cause significant damage to your property. Professionals detect the possible water damage through inspection and save you from further costs.
Why is Immediate Action Important After a Fire?
One of the significant risks following a fire is to wait too long before carrying out cleaning.
Exposure to smoke and soot is dangerous to health. Indeed, soot is created when your furniture burns. It releases petroleum molecules that settle on all surfaces, which are very dangerous for your health.
Breathing in soot can cause respiratory problems, among other things. When soot particles enter your lungs, they are quickly released throughout your bloodstream. This can cause cancer or other severe malformations in newborns. It is essential to carry out repair work immediately after a fire and entrust this task to a professional.
Smoke Damage Restoration in Mississippi Gulf Coast
If you've faced a fire recently and looking for a smoke damage restoration near you, contact 911 Restoration of Mississippi Gulf Coast. 911 Restoration of Mississippi Gulf Coast team is IICRC-certified and trained and can carry out the complete repair of your property. They offer comprehensive fire cleanup and repair services to get your home back to normal as soon as possible. Also, they are with you every step of the way. They help you from the initial smoke damage assessment to submitting your claim to the insurance company. Call (228) 300-6188 or visit their website!