Smoke Detector False Alarms: Why Does Your Smoke Alarm Go Off Randomly?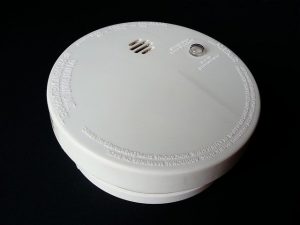 Smoke detector false alarms are not only annoying but are also a safety hazard. When you grow accustomed to your smoke alarm going off randomly, you stop responding to it. That means you might not react promptly when a real fire sets the house ablaze.
Learn why your fire safety device doesn't work to fix the problem before tragedy strikes.
Here's what you should know:
Smoke Detector False Alarms: Is Your Smoke Alarm Working?
Most smoke detectors get activated when smoke particles alter their ionized chamber's chemical composition or trigger a photoelectric cell. In both cases, these devices have highly sensitive systems that set off as soon as they detect smoke.
Their hypersensitivity can be why smoke detector false alarms occur so often when it's placed too close to the stove or heating system.
Here's a closer look at why this happens:
1. Low Battery Power/Dead Batteries
If you hear the smoke alarm beep repeatedly at a high pitch, it might indicate that its batteries don't have adequate power. Replace the batteries and reset the alarm system to check if the beeping stops. In most cases, this would fix the random alarms emitted from your smoke detecting device.
As a safety measure, change batteries once a year depending on user instructions. It's a tough lesson that viewers of This Is Us learned a couple of years back when they found the reason behind one of their favorite patriarch's death.
Alternatively, you can invest in alarms with lifelong batteries to prevent this issue.
2. Incorrect Installation/Placement
Avoid installing smoke detectors too close to cooking appliances and heating systems as routine household devices might set them off. The National Fire Protection Association suggests installing smoke alarms at least 3 meters away from stoves, heaters, toasters, fireplaces, etc.
If you're prone to take hot showers, the steam emitted from the bathroom can also prompt the smoke alarm to go off as a warning signal. That's why you should not install it right next to your bathroom door and follow the 3-meter rule in places where appliances (or heating systems) emit steam.
Besides heat, environmental elements can also create a trigger for hypersensitive alarms. For instance, an open window could let the smoke from a BBQ grill or burnt garbage into the house, causing the alarm to beep. Additionally, avoid installing alarms near ducts and vents as they might interfere with operations.
3. Overcooked/Burnt Meals
What if the smoke detector false alarms continue after changing placement?
Your alarms might start beeping due to overcooked or burned food. The smoke arising from your stove (or cooking setup) might be the cause of this noise. Change sensitivity settings to ensure this doesn't become a recurring problem.
Some smoke alarms detect temperature changes too. Use the manufacturer's manual to ensure that your adjustments do not disrupt its internal system.
4.  Unexpected Pest Presence Inside the Smoke Alarm
It might sound odd but creepy crawlies and winged insects manage to turn smoke detectors into homes. Their pesky presence can set off sensors and interfere with the wired system, creating smoke detector false alarms.
Therefore, always open up your smoke detecting device when it begins to beep without any evident cause. There's a chance that you might find an unwanted intruder living inside the ionized chamber (or photosensitive cell).
5.  Poor Maintenance
Smoke alarms might be small devices, but they still need servicing.  Dust buildup and moisture accumulation can interfere with its sensory system when you set it and forget it for years. Our fire damage restoration specialists recommended that you should get your smoke detecting device tested after every six months.
That's because experienced technicians can address mechanical and electrical issues before they affect the sensor. You will also know when to replace batteries, remove bugs inside the smoke detector, or adjust sensitivity settings.
Apart from fixing the smoke detector, they can inform you when you need to replace your device,
What If It's Not a False Alarm?
911 Restoration of Mississippi Gulf Coast serves as first responders for homes that sustain soot and smoke damage. Our IICRC-certified experts have specialized training in assessing the severity of property loss and underlying problems that can cause further structural damage. The team develops a result-oriented plan according to the initial assessment to repair and reconstruct the affected area.
Our fire damage restoration services are available 24/7 to counter emergencies. They are followed by water damage remediation and possible mold mitigation strategies if required. We even align our services with insurance policies to create a cost-effective restoration plan for residential clients.
The Bottom Line
In the end, there are various reasons for smoke detector false alarms. Most occur due to incorrect installation and failure to maintain the devices properly. Once you schedule routine checks and position them in the right place, you won't experience this noisy issue that often.
Call fire damage restoration experts as soon as the firefighter leaves the scene in case of a fire. Early intervention can limit soot and smoke damage. It also stops excess water from fire-fighting activities from seeping into surfaces and weakening the foundation of your property.
Want to know more? Contact 911 Restoration of Mississippi Gulf Coast for further assistance.