How to Mitigate Fire Damage During Wildfires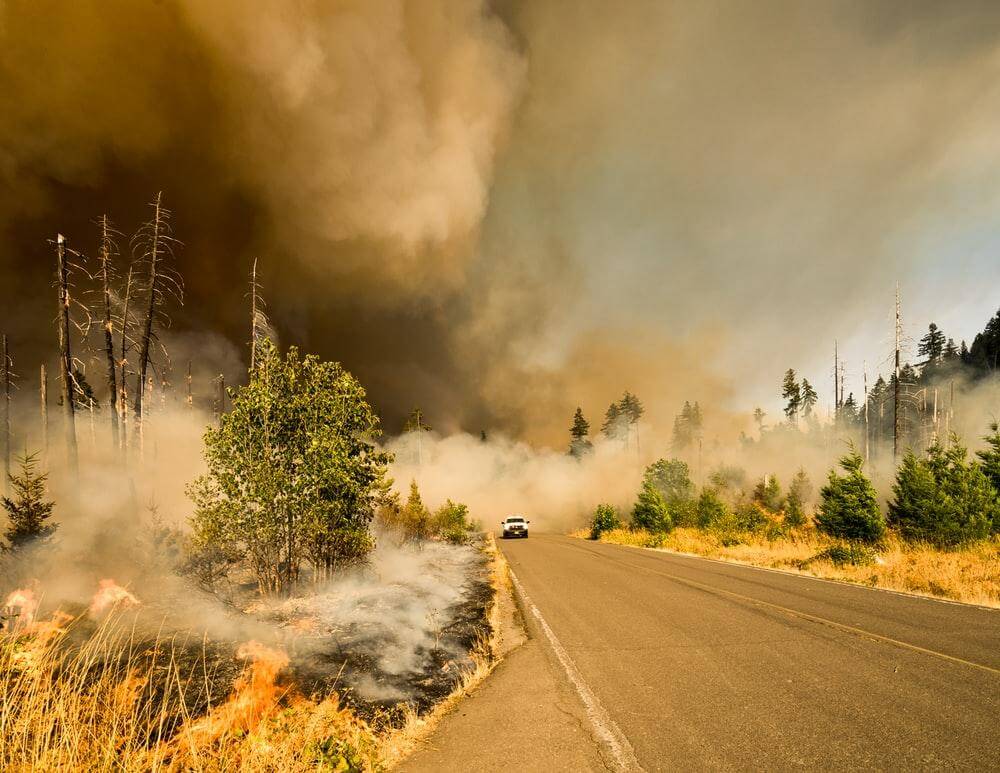 If you live near a forest or a park, you are probably worried about a fire destroying your home during summer. Wildfire damages in Mississippi can be a nightmare for homeowners because they are quick to ignite your house and hard to stop. Fortunately, we have shared our tips to mitigate wildfire damages in Mississippi. So, keep reading till the end to learn more. Before that, let's look at what is home ignition zones.

What Is the Home Ignition Zone (Hiz)?
Research around home survival and destruction during fire points to embers as the source of a home fire. Embers are burning pieces of airborne wood that contact your home and ignite it. There are several ways homeowners can mitigate wildfire damages in Mississippi, but you need to learn about home ignition zones.
A retired USDA forest service fire scientist developed home ignition zones or HIZ. They were based on research that studied the homes that burnt down due to wildfires. It's divided into 3 parts.
Immediate Zone
The 0-5 feet area from your home is called the non-combustible zone. According to HIZ, this area is most vulnerable to embers, needing immediate attention because it's the outer area of your home that's made from flammable materials like wood. To mitigate fire damage, start with the house itself and then move to the landscape area of your home.
Mitigating Wildfire Damage in Immediate Zone
Here is how you can mitigate wildfire damage in the immediate zone.
Remove dead leaves, pine needles, and debris from the roof and cutter to prevent wildfire ignition.
Repair or replace any missing roof shingles to prevent ember penetration.
Install 1/8 metal mesh screening to prevent embers from entering your home through the ventilation system.
Remove or replace broken window screens or box-in areas around the patio.
Move any flammable material next to the walls of your house to prevent ignition.
Intermediate Zone
The intermediate zone is 5-30 feet from your house. It's the landscape area where you have most of your plantation grass, flowers, or shrubs. It's the second most vulnerable area to embers because it has vegetation that can quickly ignite. Though it might be far from your home, the intermediate zone can quickly become a firey disaster.
Mitigating Wildfire Damage in Intermediate Zone
While you can't trim your landscape to prevent wildfire, there are ways you can prevent fire from spreading.
Make pathways between your landscape to cut off fuel for the fire.
Plant trees 8 feet apart from the crown area to prevent fire from spreading.
Mow your lawn to the height of four inches.
Remove vegetation under trees to prevent the fire from reaching the crown.
Trees and vegetation shouldn't be planted in a cluster.
Tree placement should be panned so that the canopy doesn't come closer than 10 feet from the edge of the structure
Extended Zone
The extended zone is a 30 – 100 feet area from the edge of your house. The goal here is to interrupt the fire's path rather than eliminate the fire. Keeping the flames small and on the ground can quickly kill them.
Mitigating Wildfire Damage In Extended Zone
Clean heavy accumulation of ground debris.
Remove dead plants and other materials that can catch fire
Trees planted 30 to 60 feet from the house should have 12 feet between canopy tops.
Trees planted 60 to 100 feet from the house should have at least 6 feet between canopy tops.
Clean vegetation next to the storage or other building areas.
More Tips for Mitigating Fire Damage During Wildfire
Wildfire is common during summer. Residentials and commercial properties near forestation are at risk of fire damage. Here are additional tips that will assist in preventing residential and commercial fire damages.
Make a fire safety zone and clean your house around it regularly.
Remove trees hanging on top of your house as they can quickly catch fire and lead it to your home.
Fix the shingles of your roof.
Don't soot firewood in the fire-safe zone.
Use fire-resistant roofing material.
Have an escape plan and practice it.
Follow your state or local open-burning laws.
Prune away trees and limbs around the driveway to cut off fuel supply for fire.
How to Protect Yourself From Smoke
Wildfire creates a smokey condition which is equally harmful as fire. Smoke can cause breathing problems and destroy the infrastructure of your house. Even if the fire isn't reaching your home, smoke can cause significant health damage. Here are ways to mitigate smoke damage.
Choose a room you can close off to keep smoke away from yourself.
Set up a portable air cleaner to prevent smoke particles from accumulating in your living space.
Wear a respiratory mask that fits tightly.
911 Restoration in Mississippi Gulf Coast Can Help
Wildfire can be hard to control, and when it reaches your house, you have no option but to evacuate. Once the fire is out, you can call 911 Restoration in Mississippi Gulf Coast to salvage your valuables and restore your home to a liveable condition. At 911 Restoration, we have a response time of 45 minutes with 24/7 availability. We follow the IICRC standards for cleaning textile floor covering and ensure our clients don't face any problems after our services. Get help now by dialing (228) 300-6188.