Water Damage Restoration in Biloxi
If you're dealing with a pipe burst, flooded basement, or any other water disaster, you don't have to do this alone. 911 Restoration of Mississippi Gulf Coast is here for you. We handle everything from minor ceiling leaks to devastating hurricane damage. We're even there when a pipe bursts in the middle of the night or your toilet backs up on a holiday. 911 Restoration provides emergency flood water damage restoration in Biloxi 24/7/365. And when your call comes in, our flood cleanup crew is on the scene in 45 minutes or less.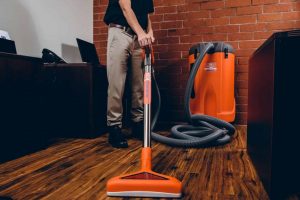 At 911 Restoration, we do more than basic water cleanup. Our IICRC certified water damage restoration technicians are trained in all aspects of property restoration. They handle structural repairs, sanitization, mold inspection, mold remediation, and more. Whatever it takes to give you a Fresh Start.
We champion your peace of mind above all else. When it comes to flood cleanup and mold removal, we've done it all, which means we understand what you're going through. Our technicians work hard to anticipate your concerns and take every burden off your shoulders. They communicate clearly so you always understand your options, and they treat your property as if it were their own. We even provide a free insurance consultation to help ease stress over the cost of flood damage and mold remediation. A water damage restoration expert reviews your policy and explains exactly what you can expect from your provider. They assist with loss itemization, file a claim for you, and bill your provider directly.
Whether it's a pipe burst, storm damage, or a leaky air conditioner, water and flood damage can feel like a huge step back. Let our compassionate crew turn this disaster into an opportunity for a Fresh Start. Call 911 Restoration of Mississippi Gulf Coast today.
Commercial and Residential Water Damage Repair
From historic homes to stunning casinos, Biloxi boasts some beautiful properties. At 911 Restoration, we love the homes and businesses that make our community great. That's why we've worked hard to prepare our flood damage technicians for any disaster. No matter what type of property you own, you can trust this crew to restore your place to its former glory.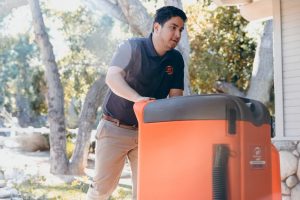 Our water damage restoration team works with a sense of urgency, recognizing the tremendous risks that come with flood damage. Not only does delayed service increase your risk of rotting and warping, but water damage is a huge interruption. Whether you need to get back in business or just get back to your life, we don't waste a second.
The flood cleanup crew arrives at your property in 45 minutes or less. They work quickly to minimize damage through emergency services such as packing out and storing at risk items, water extraction, sewage removal, storm repair, roof repair, and emergency boarding up. Once they've removed all water from your property, they dry the area thoroughly.
Then, our water damage restoration workers conduct structural testing. They check for weakness or damage, and they fix any flood damage they discover. It doesn't matter the surface or structure; our flood cleanup experts know how to make your property new again. The staff even performs a mold inspection and handles professional mold decontamination themselves.
Trust us: a pipe burst or flooded basement is not the end of the world. With the right flood cleanup company, it's a new beginning. Call 911 Restoration now for expert, emergency water damage restoration.
Your Best Choice for Mold Removal in Biloxi
If you think you have a mold problem, don't delay calling in a professional mold inspection crew. And your best option for mold inspection in Biloxi is 911 Restoration of Mississippi Gulf Coast.
Our mold remediation experts are IICRC certified to ensure the safest and most advanced mold removal process. When they first arrive at your property, the crew conducts a thorough mold inspection. They understand the behaviors of mold, and they find it wherever it hides.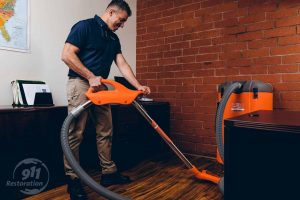 Once they've discovered and identified all patches of growth, they explain their plan for mold removal. Their methods for mold decontamination include professional procedures to ensure your safety. While many property owners are rightfully concerned about the health dangers of black mold, all molds pose a threat. Even white, gray, and brown mold have pathogenic and allergenic properties. This means they release particles that can lead to health issues if inhaled. This is why it's in your best interest to call a certified mold remediation crew rather than attempting mold removal yourself. Keep a safe distance from a mold colony until the mold remediation staff arrives.. This is especially important if you have a compromised immune system.
Finally, the mold decontamination pros dehumidify the site of the infestation. This prevents future growth. If your property is damaged by mold, our mold removal staff also handles repairs. You can move forward with a home or business that feels fresh, healthy, and clean.
A mold infestation can be dangerous, but the solution is easier than you think. Just call 911 Restoration of Mississippi Gulf Coast.
Servicing the cities of Bay Saint Louis, Biloxi, Diamondhead, Diberville, Gautier, Gulfport, Long Beach, Moss Point, Ocean Springs, Pascagoula, Pass Christian, Pearlington, Vancleave, and surrounding areas.