Disaster Recovery Plans: Ensuring Business Continuity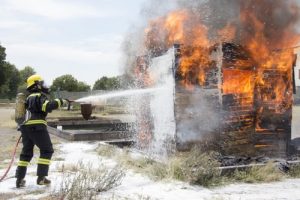 There is no doubt that businesses suffer the most when it comes to natural or man-made disasters. Be it a flood, hurricane, or a fire, halting everyday business dealings can result in a significant amount of loss for both – the company and the employees.
Therefore, having a contingency plan is a great way of ensuring that even if a disaster strikes, it doesn't halt business processes indefinitely or even for a long time.
How Can A Contingency Plan Help?
Having an insurance policy is part of a contingency planning that ensures business continuity if you experience a commercial fire or flooding. However, this is not the only kind of contingency planning needed to ensure a business gets back on its feet smoothly.
While a successful insurance claim may pay for damages or inventory, restoring the property is a completely different scenario.
Damage recovery plans are a part of the overarching business continuity plans, which include detailed instructions for how the business will restore damage after a natural event like flooding. It includes the name and contact details of the contractor responsible for carrying out the restoration services.
What Can Disaster Restoration Services Offer?
A disaster restoration company provides mitigation services to help your business get back on track as soon as possible. This means that they can help restore your commercial property or warehouse so that you can ensure smooth running even after the disaster has done its damages.
Fire Damage Restoration
Fire damage can be the worst for businesses and commercial properties because it can burn everything that comes in its way. Fire damage can be caused by a short circuit or improper handling of fire.
A disaster restoration company can help with fire and smoke damage restoration services to help you restart your business as soon as possible. These services include cleaning smoke-damaged items and soda-blasting charred walls.
Water Damage Restoration
Floods, hurricanes, heavy rainfall, or pipe bursts can cause severe water damage to a business, especially if flooding is involved. Disaster restoration services can help businesses with water extraction services.
Through their help, you can easily get rid of the flooding in your basement or lower levels of the building. Other than this, they offer drying and humidifying services so that your business can get back on track as soon as possible.
Skilled technicians from disaster restoration companies are also well-versed in plumbing, restructuring, and electrical work, which makes it easier for your business to continue despite the disastrous situations.
Mold Damage Restoration
If your business went through a recent water disaster or even a minor pipe burst, there is a high chance that you might need to investigate for mold or mildew.
Mold and mildew are a safety hazards because they can pollute the air. Other than this, mold infestations are not safe for businesses, especially if there are perishable items involved.
Businesses should rely on a damage restoration company to carry out mold removal services to make the workplace or business safe for your employees.
Sewage Backup Cleaning
In many cases, especially restaurants, you may come face to face with a sewage overflow situation. Damage restoration companies can help you continue your business in no time through their quick sewage backup services.
Their skilled workforce can extract all sewage water and unclog the pipes to ensure smooth waste disposal.
Why Are They Important?
Disaster restoration companies are important because they can help your employees get back to their jobs in just a short amount of time. This will reduce the impact on their wages and help them earn a living despite getting through a disaster at work.
Restoring a property from severe property damages after floods, hurricanes, landslides, or even fires can be incredibly challenging. It is definitely not something that you can do by yourself.
Hence, a team of professionals is perfect for the job because they have the correct training and several years of experience to carry out the services you need.
They are reliable, professional, and can offer you support in your time of need. Most disaster restoration services also offer to help you with your insurance claims as they have relevant experience in dealing with insurance company officials.
Getting back on track as soon as possible keeps your investors, suppliers, and customers happy, ensuring smooth running of the business in the foreseeable future.
Who Do You Call?
911 Restoration is a disaster mitigation company that aims to help businesses restore their properties/warehouses/shops as soon as possible. With a response time of 45 minutes, 911 Restoration of Mississippi Gulf Coast can show up at your property to offer damage restoration services as soon as the disaster hits.
Having 911 Restoration on your recovery plan panel can ensure that you will never be without support in your time of need. Through the latest equipment, skill, and expertise, 911 Restoration and their skilled workers can see you through any disaster 24/7 365 days a year!